The press has been on a tear about Trump's dismissal of his "grab 'em by the pu***" remark in a 2005 lewd video as "locker room talk."
"It's locker room talk, and it's one of those things," Trump said of the tape.
The Huffington Post has published no fewer than three articles claiming that pro athletes would never, ever talk like that about having sex with women, let alone committing adultery with a married woman.
In one article, it lists pro athletes making it out like all-male locker rooms are equivalent to a Sunday church service. In another story (which may be more intellectually offensive than Trump's language), kids are asked if such phrases ever occur in their pre-pubescent locker rooms. Then there are puffy blog articles like, "That's not locker room talk."
Here's but one example of a pro athlete denying such sexual banter:
Just for reference. I work in a locker room (every day)… that is not locker room talk. Just so you know…

— Chris Conley (@_flight17_) October 10, 2016
The Washington Post jumped into the fray with its own piece, and CNN ran interviews of pro athletes denying that such aggressive sexual banter would ever arise in their locker rooms.
ESPN's "30 for 30" has done exposes on the horrors of hazing in sports locker rooms, including sexually themed humiliation. Locker rooms vary, but the idea that lewd sexual talk doesn't arise in professional and college all-male locker rooms stretches credulity.
Well, it appears that at least one NFL player isn't going to pile onto all this feigned innocence on the part of pro athletes.
NFL superstar Tom Brady—fresh off his "deflategate" suspension and a 400-yard, 4 TD return game—was asked about Trump's "locker room talk."
A special thanks to the guy who asked Tom Brady about Donald Trump locker room talk and the end of his press conference #WBZ #Patriots pic.twitter.com/sCx59IArsw

— Joe Giza (@JoeGiza) October 12, 2016
"If you have kids of your own, how would you respond if your kids heard Donald Trump's version of 'locker room talk'?" the reported asked.
His reaction? Brady smiles and walks out of the press conference.
Let's leave aside that professional sports are reputed to be rife with marital infidelity with manyaffairs making national headlines. There may be another reason Tom Brady isn't going to answer the Trump "locker room" question—let alone one with a contrived attempt to drag kids into it.
Tom Brady, by all appearances, is a Trump supporter. What's that in Brady's own locker room?
A "Make America Great Again" hat.
Brady described the hat as a "nice keepsake," and added that he hoped one day Trump would make it in the White House.
"I hope so. That would be great. There'd be a putting green on the White House lawn, I'm sure of that," Brady said.
Trump himself has described Brady as a "good friend," and credited him for helping to win the Massachusetts Republican primary.
The media are just going to have to scratch Tom Brady off their list of pro athletes who are going to throw Trump under the bus.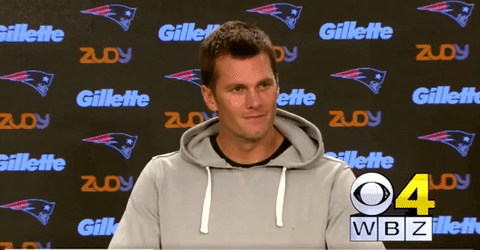 From IJR.